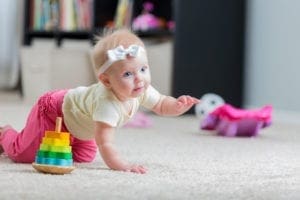 Did you know that on average, carpets can accumulate up to 40 pounds of dirt in a year? Home carpets provide a place for germs, bacteria, and even mold to grow. Norovirus, a germ linked to stomach flu, can survive on an unclean carpet for more than one month! In your home, you want the healthiest food, the cleanest air, and the best opportunity for your family and pets to thrive. However, some carpet cleaning processes are anything but good for the environment. Milwaukee Area Carpet Cleaning strives to balance your health with the best products and processes available when it comes to professional carpet cleaning.
What Is Green Cleaning?
Green cleaning can be defined as "effective cleaning that protects health without harming the environment." A holistic approach to green cleaning will incorporate solutions that consider human health and environmental impacts in a way that thoughtfully addresses:
1. products, equipment and tools
2. processes and procedures
3. commitment to continuous improvement
Stewardship for the environment is something that MACC strongly supports. From proper wastewater disposal to greener cleaning agents, we make every effort to operate in a way that puts the least strain on our ecosystem. In a dirty industry, we do our best to be as clean as possible
Health Benefits Of Eco-Friendly Carpet Cleaning
In modern society, we are subjected to small amounts of toxic chemicals throughout the day: in our cars, at the office, in open urban settings. Unfortunately, many over-the-counter carpet cleaning products contain pesticides, formaldehyde and other harmful toxins similar to those used in chemical dry cleaning. According to the Environmental Protection Agency, volatile organic compounds (or VOCs), can cause many short- and long-term health problems like headaches, vomiting, asthma attacks, skin allergies, and damage to the kidneys and liver.
While minor exposure won't necessarily cause illness, the cumulative effect can cause stress to our bodies. When we make choices that lower our exposure to cleaning chemicals, we can see tangible health benefits such as:
Easier Breathing. Using green cleaning products can reduce the chances of developing asthma, the most common reason for children missing school.
Safer Products. Conventional cleaning products pose risks such as chemical burns to the cleaner's skin and eyes. Green cleaners meet strict standards regarding inhalation toxicity, combustibility, and skin absorption. They are not corrosive or irritating.
Fewer Antibacterials. The U.S. Food and Drug Administration (FDA) says that washing with antibacterial soaps isn't any better than regular soaps, and the American Medical Association(AMA) says that the frequent use of antibacterial ingredients can promote bacterial resistance to antibiotics. By using more natural products, you can protect your immune system.
Healthy Plus High-Quality Service
Not only does Milwaukee Area Carpet Cleaning responsibly manage the carpet cleaning chemicals, but they also manage the process in your home with the highest quality service. For example, dirt and germs are not limited to the middle section of the hallway; they move the furniture as a standard practice to give you the best experience.
In the Milwaukee Area Carpet Cleaning protocol, hot water is pumped onto the carpet with a powerful hose, forcing water and cleaning agents down into the carpet fibers. As the water rushes through the carpet, it pushes out the dirt and particles trapped in there. Once the carpet has been completely hosed down, the hot water is extracted the same way it came out. The final step is a responsible return into the water cycle.
Quality You Can Stand On In Brookfield
Milwaukee Area Carpet Cleaning is dedicated to providing a quality product along with spectacular customer service. As true professionals, we respect you, your home, and the environment. You can trust Milwaukee Area Carpet Cleaning technicians to be courteous, professional, and trustworthy.
Milwaukee Area Carpet Cleaning offers professional carpet cleaning services, tile and grout cleaning, area rug cleaning, and so much more.