Pet Urine Removal
Professional pet urine carpet cleaning services for removing dog pee & cat urine stains in the Milwaukee Area.
Call Now
Contact Us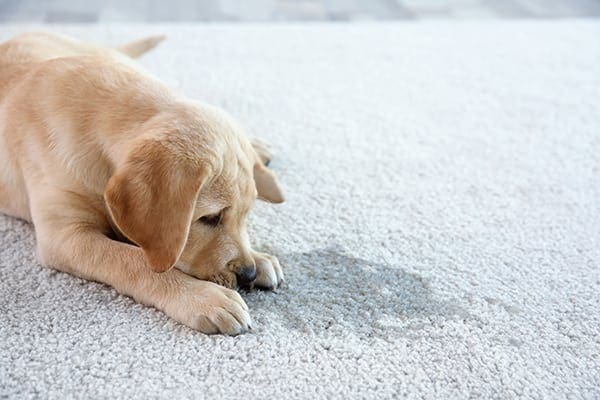 Pet Urine Carpet Cleaning
Professional Pet Urine Carpet Cleaning Services
Milwaukee Area Carpet Cleaning specializes in removing pet urine from your residential home or commercial business. Our professional pet urine carpet cleaning services include pet urine removal, pet stain removal, and pet odor removal. We use powerful commercial enzymes to break down dog and cat urine deposits, which we can then flush out. Our 10-step pet urine treatment process is proven to be effective in removing dog pee and cat urine from your carpets, upholstery, rugs, hardwood, and concrete.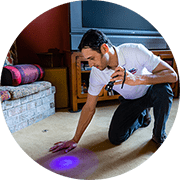 FREE Inspections
Our FREE pet urine inspection process uses high-intensity forensic UV lights and moisture meters to determine the extent of the damage. Then we will work with you to develop an effective and affordable plan of action.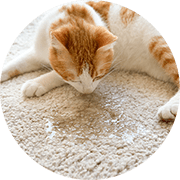 Cat Urine Removal
Cat urine is particularly difficult to remove from carpet, rugs, and upholstery. Our professional cat urine carpet cleaning services address the staining and odor caused by cat urine accidents.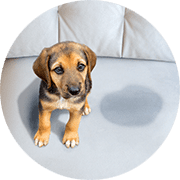 Dog Urine Removal
The odor and staining left from dog urine accidents on your carpet, rugs, or upholstery may require professional help. MACC technicians are trained and certified to do the job right.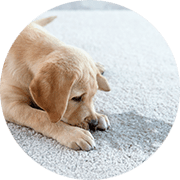 Pet Odor Removal
Sometimes treating the source of pet odors is not enough to completely eliminate the smell. Pet urine can settle into inaccessible areas, such as wall cavities and floor joists. Visit our Odor Removal page for details on our advanced odor solutions.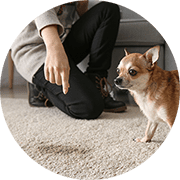 Pet Stain Removal
The carpet stains left by pet urine can be very difficult to remove. A thorough understanding of the chemistry involved in urine removal is necessary in order to safely remove pet urine stains without making them worse or damaging the carpet.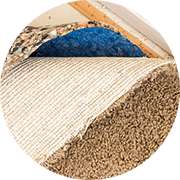 Pad Replacement
Large pet urine deposits can soak through both the pile and backing of your carpet and into your carpet padding. Urine cannot be effectively cleanout out of carpet pad, so this must be replaced. We will pull up your carpet, remove the old pad and replace it with new pad.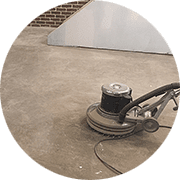 Subfloor Treatment
In severe cases, pet urine can collect all the way down into your concrete or plywood subfloor. Once the carpet pad has been removed, we will treat the exposed subfloor with specialized enzyme formulas designed to be effective on wood and concrete.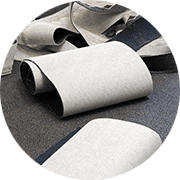 Carpet Reinstallation
We will reinstall your clean, treated carpet following a carpet padding replacement and subfloor treatment. This involves remaking the carpet seams, installing new tack strips, and stretching the carpet back into place. Visit our Carpet Repair page for more details.
Happy Clients
Your Satisfaction is Always Our #1 Priority.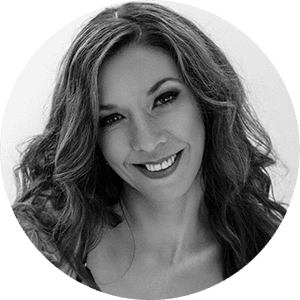 "Highly recommend MACC for their fantastic pet urine removal services! I run an in-home dog boarding business and accidents are common. Milwaukee Area Carpet Cleaning treats both my carpets and my hardwood floors. They do an amazing job removing dog pee stains and smells every time!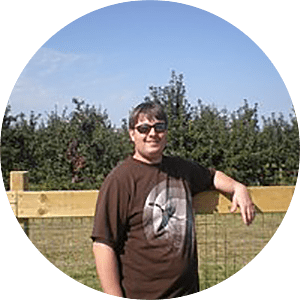 "I recently had my carpets cleaned by Milwaukee Area Carpet Cleaning and Nick did a fantastic job. Our carpet literally changed color! We have 3 kids and we run a daycare from home, so our carpets take some abuse. We were considering replacing the carpet before this cleaning. Nick helped move furniture and really paid attention to detail. We'll be getting on a regular cleaning schedule to keep our carpets looking as great as they do. Highly recommended!!"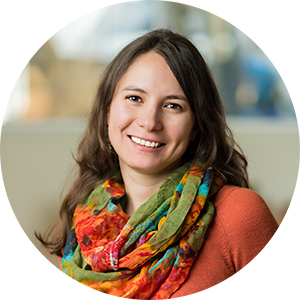 "I gave Milwaukee Area Carpet Cleaning the task of cleaning the carpets and upholstery in my car, and I was not disappointed. The owner, Nick, is very detail-oriented, so he really got into the folds and corners. He steam cleaned the seats and carpets too. It looked and smelled great afterwards! Nick is a fast worker, super friendly, and MACC has the right equipment for basically any carpet cleaning or upholstery job. They use environmentally friendly products. I would definitely recommend using Milwaukee Area Carpet Cleaning for home and office services as well! FIVE stars, Nick!"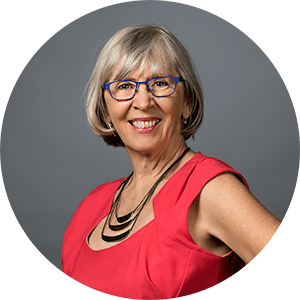 "We chose Milwaukee Area Carpet Cleaning for professional carpet cleaning services, and we're glad we did! The owner, Nick, did a fantastic job on the cleaning, and the carpets dried really quickly. He arrived on time, and was professional in demeanor. We particularly appreciate that Milwaukee Area Carpet Cleaning is an environmentally conscious company, and will definitely hire them again."
Pet Stain Removal Services
Professional Dog & Cat Urine Carpet Cleaning Services
As a pet owner, you know firsthand the struggles of keeping your carpets clean. Accidents happen, and sometimes pet urine can seep deep into the fibers of your carpet, or even further into the padding or subfloor. Pet urine stains are unsightly and emit an unpleasant odor which can be extremely difficult to remove. That's where professional pet urine removal services come in. With the right tools, chemicals, and techniques, these services can completely eliminate even the most pervasive and stubborn stains.
MACC Offers Professional Cleaning Services In:
Pet Urine Carpet Cleaning 
10-Step Urine Removal Process
Milwaukee Area Carpet Cleaning uses a 10-step pet urine removal process in order to restore your carpets, upholstery, and rugs to the best condition possible. Our process draws from the IICRC standards for professional cleaning, and it has been proven to yield amazing results.
#1 Inspection
Our IICRC Certified technicians will closely inspect your carpet in order to determine the extent of the urine damage. Our FREE inspection process uses high-intensity UV lights and moisture meters that tell us exactly where the urine has gone.
#2 Consultation
Once we have properly assessed the urine damage, we can then work with you to develop an effective and affordable plan of action. We can often offer different options for you to choose from, depending on your individual needs.
#3 Vacuuming
Regular vacuuming is the most important step in carpet maintenance. Regardless how recently you vacuumed, we take another pass with our professional vacuums and counter-rotary brush machines. You'll be amazed at what we are able to dig out of your carpet.
#4 Enzyme Treatment
We use powerful commercial-grade enzymes to break down urine deposits. Carpet cleaning without the use of enzyme treatment will never remove urine, so this step is essential. The products we use are much stronger than store-bought enzymes such as Nature's Miracle.
#5 Spot Injection
Severe urine deposits eventually make their way into your carpet padding and subfloor, where they become even more difficult to remove. Spraying alone does not penetrate deeply enough to be effective, so we use carpet syringes to inject enzymes directly underneath the carpet.
#6 Spot Flushing
After we inject enzymes into your carpet padding, we then need to thoroughly rinse these areas beneath the carpet. In these situations we use a "Water Claw" subsurface extraction tool to completely flush both the carpet and padding.
#7 Soil Suspension
The "pre-sprays" used by carpet cleaners work to loosen soils from the carpet so that they can be flushed out. While most carpet cleaners use "all-purpose" pre-spray for a myriad of applications, we employ a variety of products specifically formulated to safely and effectively clean various types of carpet.
#8 Hot Water Extraction
Hot Water Extraction (HWE) is simply the best way to remove contaminants from carpet. Unlike "low-moisture" cleaning methods, HWE purges a high percentage of foreign material and chemical agents used in the cleaning process. Other cleaning methods cannot match the level of quality cleaning we ensure.
#9 NEUTRALIZING RINSE
Since urine salt deposits are on the alkaline side of the pH scale, we neutralize that pH with an acidic rinse. This neutralizing rinse helps to release remaining urine salts while also leaving your carpets feeling soft and smelling fresh.
#10 Drying
Fast drying times are not only convenient, they also help prevent urine odors from coming back. We take extra drying passes and use high-speed fans to dry your carpet quickly. Most post-cleaning issues are related to slow drying times, and our process reduces these risks.
Milwaukee Area Carpet Cleaning
The Best Pet Urine Cleaning Company in Milwaukee
Milwaukee Area Carpet Cleaning is dedicated to providing the best pet urine cleaning services in Milwaukee, and professional pet urine removal is just one of the excellent products we offer. Whatever it takes, it is our goal to leave our clients feeling satisfied with their entire experience with our company. Our commitment to excellence is evident in every aspect of our work. Contact us today to schedule a FREE consultation.
Professional Pet Urine Cleaning Services In:
Trust Professionals Who Care.
Whether you need carpet cleaning services, pet urine treatment, tile and grout cleaning, oriental wool rug cleaning, upholstery cleaning, duct cleaning, water damage restoration, carpet repair, or any other service we offer, you can count on a quality job from Milwaukee Area Carpet Cleaning. Our IICRC Certified technicians will arrive at your residence or business looking and acting professionally. Contact MACC today for your cleaning, restoration, and repair needs.